Local Service Ads, also known as "Google Guaranteed," offer a convenient way for local service providers, such as plumbers, electricians, cleaning services, and more, to receive high-quality phone calls, messages, and appointment bookings from customers within their service areas. These ads provide an easy and affordable solution for service providers to start securing jobs in their local service areas on a weekly basis.
Getting started is pretty easy, too.
You start by signing up for Local Service Ads on Google, tell them a little about your business, your services, and get your business verified. That means they do a quick background check and ensure you have the proper licenses and insurance for your business.
Once you're verified, Google will start showing your Google Screened Badge at the top of the page whenever somebody in your area searches for your service.

As you can see, there's a green checkmark, and 3 businesses listed along with their reviews.
If you're not ranking organically on page-1 of Google at the moment or your business is not appearing in the map section, Google Guaranteed is a great way to get some low-cost, high-quality exposure quickly!
Now, one of the main selling points with Google Guaranteed is that they personally vet each business to ensure that they align with their quality standards. This ensures that the people who connect with these businesses have a positive experience which, of course, aligns with Google's mission to provide its users with the best browning experience possible.
How does Google Guaranteed work?
Google Guaranteed is a way for you to advertise your local services company. Your ads will show up for customers in your area and you only pay if a customer contacts you directly through your ad.
Once you sign up and get verified, you set your monthly budget. Then, when someone in your area searches for your services, your listing will appear along with your business name and reviews.
Customers will click on your listing to call you directly. If a customer then hires you, they'll be prompted to leave a review when the job is done. These reviews are then used on your profile to encourage other potential customers to hire you for your services.
There is a vetting process however, wherein Google will verify that you have the proper local licenses and insurance requirements, as well as conduct a simple background check.
Google will also send you regular reports so you can see how your Local Service Ads are performing. There's also an app that you can download to monitor your account on the go, listen to call recordings from customers, adjust business hours and budget, and more.
Meanwhile, customers can read reviews, see photos and business information, and call, message and book all within your ad! It's a very simple and streamlined system.
For my information, you can check out their FAQ.
Does your business qualify?
Google Guaranteed Ads are started off for home service companies but have recently expanded to more than 70 types of businesses. Rest assured, though, that if you're in the Home Services niche, you're covered.
Here's a quick (yet incomplete) list for your reference:
Appliance repair
Carpet cleaning
Cleaning service
Countertop pro
Fencing pro
Electrician
Flooring
Home Inspector
Handyperson
Home Security
HVAC
House Cleaner
Junk removal
Landscaper
Pest Control
Plumber
Roofer
Tree service
Water damage
And many more
What are the benefits of Google Guaranteed?
One of the key benefits of using Local Service Ads is that your business is being "vetted" by Google which essentially means Google is giving your business the stamp of approval. This helps give prospective customers the peace of mind that your business has been approved by Google.
If the customer is dissatisfied with the work for any reason, Google can refund the money to the customer up to a certain amount, around $2,000.
Some other benefits not to be glossed over are: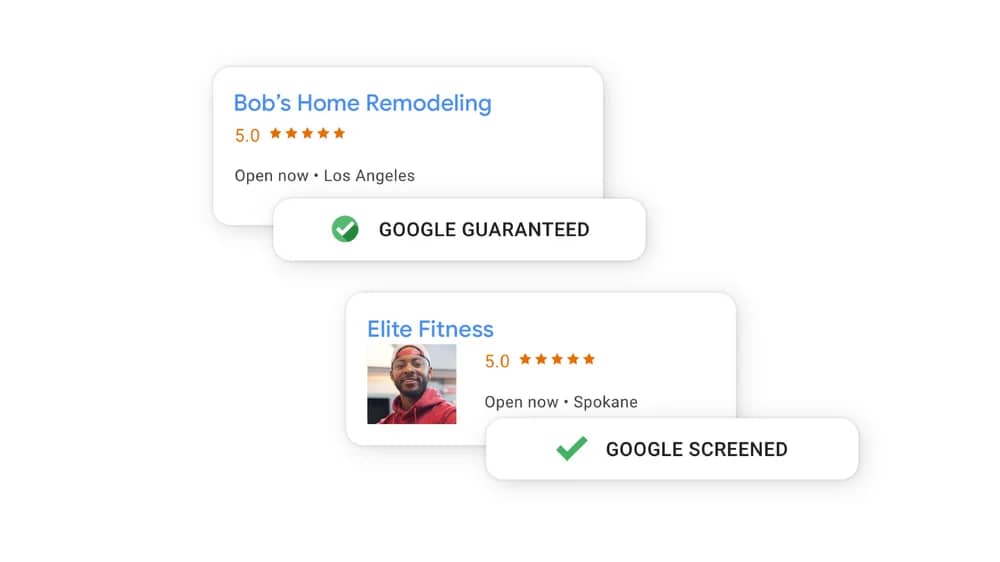 Get a Google Screen Badge
Build credibility and brand awareness online – when you're Google guaranteed, you get the trust that goes along with that!
Appear above the paid ads results – with Local Service Ads, they appear at the very top of the page, before paid ads, local maps, and organic search results
Pay only for calls, not for clicks AND can dispute low-quality calls – if you get a low-quality lead or phone call, you can dispute that with Google and be refunded for that lead
What affects performance and eligibility with Local Service Ads?
There are a few factors that will affect how your ad appears on Google. They are:
How close you are to potential customers and where they are located in relation to your business
Your review score and how many reviews you have (this is why it's so important to follow up with happy customers and ask for them to leave a review)
Your responsiveness to customer inquiries (how quickly you respond to inquiries)
Your business hours (your business will only appear when you are open)
Whether or not you've received multiple complaints from customers in the past
How to Get Started
Sign up as a service provider – let Google know where you're located and what services you offer;
Choose your budget – You set your budget based on how many new leads you want each week. Additionally, you can adjust your budget at any time to scale up or down the amount of leads you can generate;
Easily turn on and off your ads – You can easily control when your ads are active or, if you fill up your calendar for the week, you can easily pause them.
You can get started by visiting https://ads.google.com/local-services-ads/. They have live agents that can walk you through the set up or contact us and we'd be happy to help you get set up for free!
They even have a free budget calculator tool that lets you plug in your zip code, your industry, and how many leads a month you're looking for. This will give you an idea of how much money a month you should set aside as well as a projection of how many leads you can expect to get.
I hope this quick introduction to Google's Local Service Ads helps give you new insights about how you can market and get new customers for your Home Services business. If you have any questions, don't hesitate to reach out!