We all want to rank higher in the search results and drive more traffic to our websites, right?
Well, guest posting on other websites is one heck of a way to do that.
Guest posting on other websites can help grow your organic traffic and boost your domain authority – two key things that will improve your SEO – but it's worthwhile to know what to look for when you start reaching out to guest blogging sites, and have a clear idea of what you want to get out of the process.
Getting clear on those things will help to ensure you get the biggest bang for your buck for your efforts.
What is Guest Posting?
Quite simply, guest posting is when you contribute a piece of content (usually, a blog post) to another company's website. You are often credited as the author of the post and should receive a backlink to your website from the published article.
Benefits of Guest Posting
If you do it right, guest blogging can provide you with a host of benefits, all of which help to grow your organic SEO.
Some of these benefits include:
Grow your audience – Once you start writing for other blogs, you may attract new readers to your website. These readers might become fans and customers of your business;
Demonstrate expertise in your field – When you post an informative article, a guide, or how to article, you position yourself as an expert in your industry which can lead to new business opportunities down the road;
Build awareness of products/services – In your guest post, it's usually a great opportunity to link back to relevant products or services that you offer which can eventually lead to an increase in your bottom line;
Establish relationships – As you start making a name for yourself as an expert in your field, you'll begin to form relationships with partners in the industry which can lead to new and unexpected opportunities;
Develop your domain authority – When you get an article published on high authority domain, the backlink you receive will start to increase your own domain's authority which can make ranking for your target keywords easier over time.
What to know before seeking guest posting opportunities
As you can see, there are a lot of great benefits that with putting yourself out there with guest posting including growing your domain and authority online but to make the whole process smoother, there are a few things you'll want to keep in mind.
Set a goal
Before you set out on your guest post adventure, it's a good idea to know what your destination is, i.e: a goal.
This could vary from business to business but for a lot of online businesses, that could easily look like gaining more traffic and higher search rankings.
For other businesses, it might be positioning themselves as an industry leader or getting connected to some higher authority domains to help grow their business.
Whatever it is for you, it's a good idea to set a goal for yourself.
Having a clear goal will help refine your approach, define your metrics, and save you time by avoiding blogs that don't fit your criteria.
For example, if our goal was to increase our domain authority score we'd look to target only websites with higher DA scores.
Define your target niche
Next, you'll want to figure out who your target audience is and that relates directly to your niche.
You likely already know what your industry (niche) is but if you're not sure, ask yourself who your target audience is and what kinds of places are they hanging out online?
What blogs would they be reading to find a service or product like yours?
Try putting yourself in your ideal customers shoes and consider where they'd go online to find a business like yours.
Knowing this will drastically narrow the focus of your search efforts.
Provide value
Finally, you get out what you put into it.
Apart from being an all-around good life lesson to remember, the same thing applies to guest posting.
While your goal may be to drive more traffic to your site and land a nice backlink, you should also be looking to provide a valuable piece of content to the owner of your target blog.
Not only does this make you a star in the eyes of the site owner, you'll be increasing your chances of gaining new readers and visitors to your site by providing a great piece of content.
You'll also increase your chances of scoring more guest post opportunities down the road with the same blog or another one (remember, you can point to your great article when prospecting later on).
When in doubt, consider the words of Jerry Springer, and take care to deliver a solid piece of content.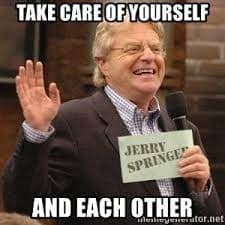 How to find guest posting opportunities in your niche
Now that we've gotten clear on why we're doing this, what our niche is, and why leading with value is so important, it's time to start finding domains that accept guest posts (and some that don't – more on that later!)
One of the simplest and fastest ways to do this is to use Google along with a tool like Mozbar (Mozbar is a Chrome extension that you install in the browser. You will have to sign up for a free Moz account to use it).
What Mozbar allows us to do is see the DA score (domain authority) score of a website in the search results page. This allows us to quickly see how authoritative a site is and can help us make quick decisions about whether or not we want to pursue a guest post with that domain.
DA score is just one metric to help us filter through websites and may not be important to you if your goal is different.

For instance, you may care more about relevancy than domain authority.
Using Google Search to Find Guest Post Opportunities
Once we've got our Mozbar (or similar tool) installed, it's time to use good ol' Google search to do our dirty work.
The key is to use the right keywords and search operator to narrow down the focus so that Google only returns the kinds of results we want to see.
The format for your search would look something like:
business niche "write for us".
For example, SEO blog "write for us", which came back, in my case, with a lot of relevant responses.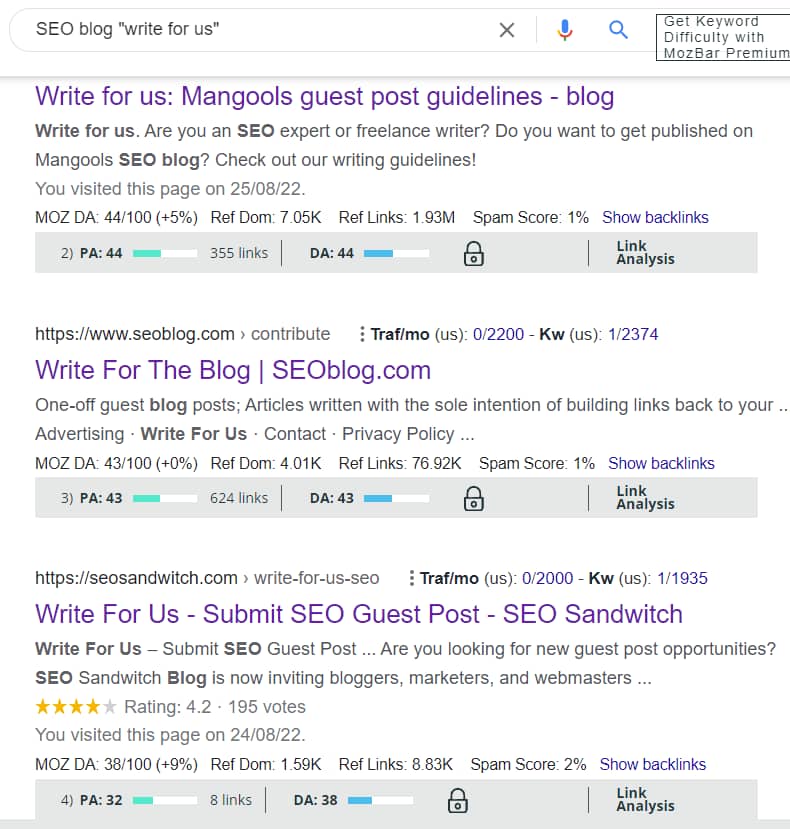 I initially tried SEO blog "guest post" but all I got back were a bunch of articles about whether guest posting was good for SEO, so you might need to experiment with different combinations of keywords before you find one that returns good results.
Here's a list of other search terms you'll want to experiment with:
niche "submit a guest post"
niche "guest post"
niche "guest post by"
niche "accepting guest posts"
niche "guest post guidelines"
"write for us" + niche
"guest post" + niche
niche + "become a contributor"
You can also combine multiple search operators together.
For example:
Niche ("write for us" OR "submit a guest post")
The brackets enclose two different exact search terms and the 'OR' operator means one of the other. AHrefs has a cool post about advanced search operators.
The goal here is to find the right search query that brings up several strong matches in your niche that accept guest post and advertise a page on their site to "write for them".
Compiling Your Results
Once you've found the right search term (or combination thereof) that pops out the types of results that match your niche and advertise guest posts, it's time to compile these results into a list.
Now I'm sure there's a fancy tool out there that can make this a lot faster (if you know of one, let me know and I'll add it) but in my case, I'm using a simple spreadsheet to copy the Name of the blog, the Domain Authority score, and the link to the contributor guidelines, for easy reference later on.
I'm also going to include a column for contact email for when I locate the email of the person in charge of approving guest posts and to whom I'll need to send my outreach pitch.
Depending on how ambitious you are and what your guest posting goals are, you can make a list of about 15-30 sites, or more.
Odds are you won't get published on all of them for one reason or another, so it's good to have a deep list of prospects that you can reach out to if one fails.
After a bit of time on Google, you should have a list of websites that accept guest posts that fit your niche.
Going Beyond the List
Not every website will be explicitly advertising for guest post opportunities but this doesn't mean they wouldn't accept an excellent piece of content that would add value to their site and their readership.
In fact, if you have a favorite blog – or one catches your eye one day – add them to your guest post spreadsheet.
In addition, sign up for their newsletter, engage with their work online (in comments) or on social media, and generally, be a contributor to their ecosystem without expecting anything back.
If you do, you might find you're in a better position to notice "content gaps" (holes in their content you can fill with your own work), and find it's easier to introduce the idea of guest posting on their site because you've already shown that you're a fan of their work and more likely than not, they might remember you from all the engagement you were taking part in.
So don't close the book on sites that don't advertise guest posts. If you like what they're doing and you think you're a good fit for their subject matter and audience, don't be afraid to reach out when the time is right with your perfect guest post idea.
And keep a running list of these websites so that you can keep track of where your outreach efforts go!
Conclusion
In this post, we've determined some of the benefits of guest posting, including gaining quality backlinks, increasing referral traffic, and creating a reputation for yourself as a credible voice in your industry.
We talked about why it's important to set a goal, know your target niche, and look for how you can add value to get the most out of your guest posting efforts.
Finally, we looked at using Google search, the exact match operator (" "), and a tool like Mozbar, to quickly filter through search results and find websites that match our target criteria.
There are certainly other ways to find guest posting opportunities and maybe we'll cover them in this post or a later post, but this technique is sturdy, reliable, and should be enough to get you started.
How do you go about finding guest post opportunities? What would you add to this post to make it more comprehensive?
Leave a comment below and thanks for reading!
Featured image by Andrew Neel on Unsplash